Unless you've been living under a rock, you are familiar with the protests that are taking place during NFL games- the "take a knee phenomenon." The movement has gathered so much support that even some celebrities and public figures have posted photos while they are kneeling as a way of urging private citizens to support the protests and the meaning for which it stands. According to the latest polls, people are divided when it comes to the support of this form of protest. While some people support the protest as a way to bring visibility to police brutality and racial inequality, others view kneeling during the national anthem as a form of "disrespect."
Preceding one game, the President of the United States made very clear his position on the matter, calling the NFL players, "sons of bitches" and demanding that the owners fire them for their refusal to stand in front of the flag. But, what is more interesting is the differing opinions about the legality of these sorts of protests. Many individuals, including media pundits (some of whom have legal educational backgrounds), have wrongfully asserted that the NFL players have a constitutional right to engage in free speech by taking a knee.
While I sincerely admire Colin Kaepernick and support the movement to end racial injustice, some of the commentaries about the NFL player's rights as employees have not been entirely accurate. The constitutional right to free speech under the First Amendment refers to the government's inability to restrict an individual's free speech as a private citizen. This constraint does not extend to private sector employers. And, as many of you know, the National Football League (NFL) is a private organization/business. At one point in time, an employer was restricted from interfering with an employee's "free speech" rights if that employer was, in fact, the government. Under Pickering v. Board of Education, 391 U.S. 563 (1968) the Supreme Court held the government can not restrict an employee's speech if she is speaking on a matter of public concern and it causes no disruption to the workforce. The Pickering case was later distinguished by Garcetti v. Ceballos, 547 U.S. 410 (2006), however. In this Garcetti, the Court held that when public employees make statements pursuant to their official duties, or internal matters, rather than matters of public concern, they are not speaking as citizens for First Amendment purposes, and therefore their speech does not have first amendment protection.
"An[n] employee may have a constitutional right to talk politics, but he has no constitutional right to be employed." -Supreme Court Justice Oli­ver Wendell Holmes, Jr.
Insubordinate man with zipped mouth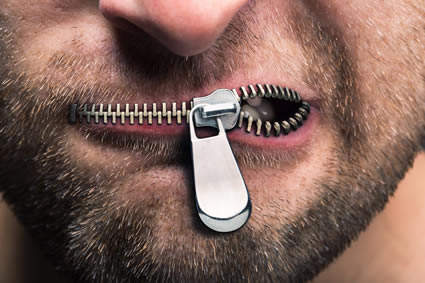 You might be asking if because the First Amendment does not extend to private sector employers, does that, in turn, mean you waive all your rights as a private citizen once you set foot in the workplace. The extent to which you can engage in specific political speech or engage in certain conduct is ultimately determined by your employer's code of conduct, employee handbook, employment agreement to which both Parties are bound or certain local, state or Federal laws in the jurisdiction where you work. These policies or code of conduct rules may even govern an employee's off-duty conduct. For instance, a marketing executive with a government contracting firm recently lost her job because she gave the President a "middle-finger salute" as he and his procession of cars drove past her. The employee believes that she had a first amendment right to engage in this sort of self-expression, but the employer states that her termination was justified because her behavior violated the company's code of conduct policy.
For NFL players, the Collective Bargaining Agreement reigns supreme. A Collective Bargaining Agreement is a contract between the management of an organization/business and the union representatives of its employees. These CBA's are for a specified, finite period and usually lay out the conditions of employment and the process of grieving specific actions found to be in violation of the CBA articles and procedures. In the case of NFL players, no rule requires NFL players to stand for the national anthem. If an employer were to discipline an NFL player for refusing to stand, it certainly would beg the question why since the player did not violate a league policy or rule. And, in some jurisdictions disciplining an employee for "taking a knee" could be a violation of some local or Federal laws.
Title VII of the Civil Rights Act of 1964, protect against discrimination in the employment sphere on the basis of religion and national origin, among other categories, and a player may have an actionable case if he believes that his religious beliefs are being violated, or he is being punished for his nationality. If some of you may remember in the 1990's an NBA player named Mahmoud Abdul-Rauf refused to stand for the anthem because he stated it conflicted with his Islamic beliefs. According to Abdul-Rauf, the flag was a symbol of oppression, and his religion did not permit him to pledge allegiance to the flag. As a result of his refusal to stand for the flag, the NBA suspended him for two days. Some jurisdictions, such as the District of Columbia, for instance, also protect political speech. Disciplining employees for making political statements during employment, and while on duty, might lead to a violation of the D.C. Human Rights Act, and create a cause of action based on the employer's decision to discipline.
All in all, "freedom of speech" is not usually a proper defense to certain behaviors in the private sector workforce. When employees are disciplined for certain speech, to determine if that discipline is appropriate or if punishment is warranted at all, it is best to look at other Federal, state and local laws, as well as the employment agreement or the CBA and the company's internal policies and codes governing employee conduct.
SOURCES
https://www.washingtonpost.com/local/she-flipped-off-president-trump–and-got-fired-from-her-government-contracting-job/2017/11/06/4cf1af9a-c2da-11e7-84bc-5e285c7f4512_story.html?utm_term=.fc024644f0e7
A first amendment expert talks NFL protests, Donald Trump and Jemele Hill
https://www.forbes.com/sites/janetnovack/2017/09/26/dont-count-on-an-nfl-defense-free-speech-rights-arent-guaranteed-in-the-workplace/#453fb64b16ff
https://www.forbes.com/sites/janetnovack/2017/09/26/dont-count-on-an-nfl-defense-free-speech-rights-arent-guaranteed-in-the-workplace/#453fb64b16ff